We went to the Aquarium today. This is my favorite picture from the day....me and my nephew, Jonah. Woo HOOOO!!!!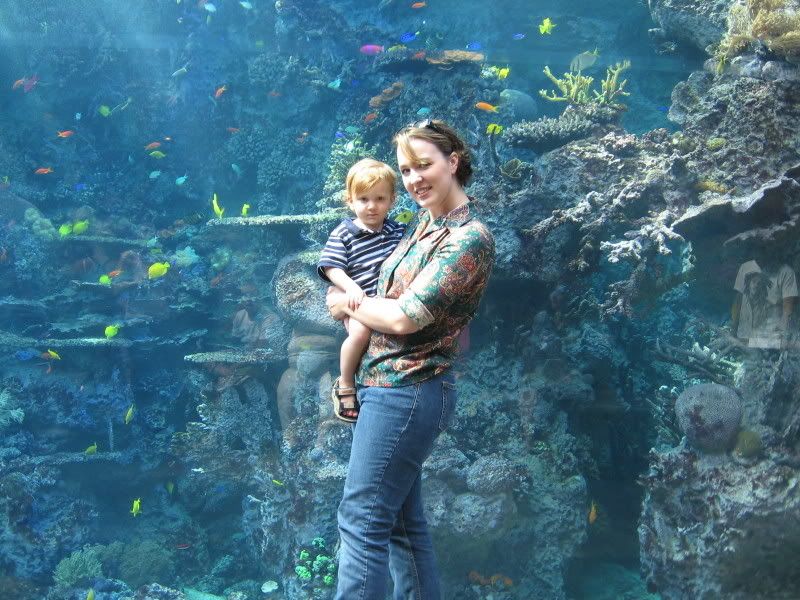 * * * * * * * * * * * * * * * * * * * *
so i got a phone call yesterday from dr holz. honestly, i'm used to his calls now. they don't evoke the "oh no, what did i do in songsters now?" reaction that they used to. now they just usually make me laugh.
but this one kinda jolted me a bit. he asked me if i wanted to come work for him a bit in the music dept this summer. after i picked myself up off the floor, i asked him if he had totally thought this proposition through: it would mean that he would see me for 8 hours every day that i'm there. i wasn't sure if he was prepared for that. he said he was okay and that he was even working on getting me paid for this. (WOAH!!!!)
so as of this afternoon, i am living up to the destiny i never knew i had. (being married to robert not only entered me into the snelson family, but the holz/music dept clan as well!!!) tomorrow morning i will go to thq with robert and begin working with evelyn to prepare for tmi. we'll see if dr holz can really handle it!
(and i'm sure this has nothing to do with the fact that my husband works there....)